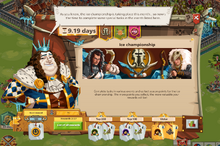 Grand Events (aka Grand Nobility Prizes, Long Term Point Events) are a series of regular events that spans about a month (28 to 31 days). Originally a seasonal occurrence, the Grand Events happen back to back. They work in tandem with the Kingdom's League event. The person representing the events is King Ludwig the Round in a different costume.
There are multiple GEs that, while have a different name and theme, function exactly the same. Years ago, the GEs were unique in that their rewards matched the seasonal theme. Starting from level 60 and up, and legendary levels, all rewards are silver pieces, gold pieces, and season point boosters.The rewards change sometimes.
Starting from July 2021, level 10 to 49 players are no longer eligible to participate in the event. You must reach at least level 50 to unlock this event as of now.
Other Names
[
]
Ice Championship : Winter themed (November to February).
Spring Night's Festival : Spring/Summer themed (June to August/September).
Nail-biter Event : Halloween themed (October).
King Eric's Challenge : Regular Grand Nobility themed (April).
The Emerald Trial : Spring themed (March).
Oktoberfest Celebration : Festivals in Germany themed (September 2021).
Rewards
[
]
Older Rewards
[
]
Here are the list of Rewards currently in Grand Events. Note for legendary levels reward can change sometimes, this is the most well-known rewards.
#
Reward
Level 50 to 59
Level 60 to 69
Legendary levels 801 to 950
1
25x Tickets
100 gold pieces
100 gold pieces
2
Lamp of the Desert Sorceress (+20) (Unique artifact commander)
100 gold pieces
100 gold pieces
3
2x Regular flint material sack
100 gold pieces
100 gold pieces
4
30x Tickets
100 gold pieces
100 gold pieces
5
Scorpions Stone (Unique gem commander)
200 gold pieces
200 gold pieces
6
Random level 4 gem
200 gold pieces
200 gold pieces
7
Regular resin material sack
300 gold pieces
300 gold pieces
8
Helmet of the Desert Legion (+20) (Unique helmet commander)
300 gold pieces
300 gold pieces
9
+100% Season point booster. Last 18 hours
+100% Season point booster. Last 18 hours
+100% Season point booster. Last 18 hours
10
Regular Soul stone material sack
400 gold pieces
400 gold pieces
11
Legion Stone (Unique gem commander)
400 gold pieces
400 gold pieces
12
VIP Time 1.3 days
400 gold pieces
400 gold pieces
13
50x Tickets
400 gold pieces
400 gold pieces
14
Sand Sorceress (Unique hero commander)
500 gold pieces
500 gold pieces
15
Random level 5 gem
500 gold pieces
500 gold pieces
16
Regular flint material sack
500 gold pieces
500 gold pieces
17
The Scorpion Tail (+20) (Unique weapon commander)
500 gold pieces
500 gold pieces
18
+100% Season point booster. Last 6 hours
+100% Season point booster. Last 6 hours
+100% Season point booster. Last 6 hours
19
Regular common material sack
500 gold pieces
500 gold pieces
20
Explorers stone (Unique gem commander)
500 gold pieces
500 gold pieces
21
2000 VIP Points
500 gold pieces
500 gold pieces
22
75x Tickets
500 gold pieces
500 gold pieces
23
Sorceress stone (Unique gem commander)
500 gold pieces
500 gold pieces
24
Random level 6 gem
600 gold pieces
600 gold pieces
25
Regular Soul stone material sack
600 gold pieces
600 gold pieces
26
Armor of the Desert Legion (+20) (Unique armor commander)
600 gold pieces
600 gold pieces
27
Shrine of the forest guardian (+230 PO)
700 gold pieces
700 gold pieces
Winner
Goddess of nature (+270 PO)
Relic food production build item level 10 & Goddess of Nature (+10 PO)
Rosewood keep appearance build item (+2500 mead production per hour). Lasts 28 days & Triumph of loyalty (+2700 PO).
2nd Reward
Random level 6 gem & Level 6 Commander gem Battle Cry
Relic food production build item level 8 & Goddess of Nature (+10 PO)
Relic food production build item level 10 & Triumph of bravery (+2500 PO).
3rd Reward
Random level 5 gem & Level 6 Commander gem Stormed Flanks
Relic food production build item level 7 & Goddess of Nature (+10 PO)
Tree village barracks build item (+250 unit limit on the wall). Lasts 2 days and 12 hours & Inner district level 1
Current Rewards
[
]
#
Reward
Level 50 to 59
Level 60 to 69
Legendary levels 1 to 800
Legendary levels 801 to 950
1
100 gold pieces
100 gold pieces
2
100 gold pieces
100 gold pieces
3
100 gold pieces
100 gold pieces
4
100 gold pieces
100 gold pieces
5
200 gold pieces
200 gold pieces
6
200 gold pieces
200 gold pieces
7
300 gold pieces
300 gold pieces
8
300 gold pieces
300 gold pieces
9
10
400 gold pieces
400 gold pieces
11
400 gold pieces
400 gold pieces
12
400 gold pieces
400 gold pieces
13
400 gold pieces
400 gold pieces
14
500 gold pieces
500 gold pieces
15
500 gold pieces
500 gold pieces
16
500 gold pieces
500 gold pieces
17
500 gold pieces
500 gold pieces
18
+100% Season point booster. Last 6 hours
+100% Season point booster. Last 6 hours
19
500 gold pieces
500 gold pieces
20
500 gold pieces
500 gold pieces
21
500 gold pieces
500 gold pieces
22
500 gold pieces
500 gold pieces
23
500 gold pieces
500 gold pieces
24
600 gold pieces
600 gold pieces
25
600 gold pieces
600 gold pieces
26
600 gold pieces
600 gold pieces
27
700 gold pieces
700 gold pieces
Winner
Relic food production build item level 10 & Goddess of Nature (+10 PO)
Rosewood keep appearance build item (+2500 mead production per hour). Lasts 28 days & Triumph of loyalty (+2700 PO).
2nd Reward
Relic food production build item level 8 & Goddess of Nature (+10 PO)
Relic food production build item level 10 & Triumph of bravery (+2500 PO).
3rd Reward
Relic food production build item level 7 & Goddess of Nature (+10 PO)
Tree village barracks build item (+250 unit limit on the wall). Lasts 2 days and 12 hours & Inner district level 1