A moat, which becomes available at level 37, is a defensive building that increases the defense of the castle. Moat defense tools may be used to increase the protection bonus of a moat.
Only one of the two types can be built. To change it, you first have to demolish the current one. They can be found under battlements in the construction menu.
We need more troops!
It has been suggested that this page, or a section of it, be extended.
Once the points are expanded, any user may remove this tag.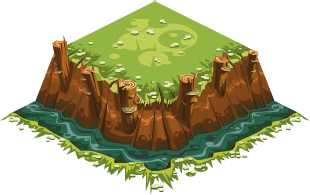 Image
Building level
Level required
Castle defense
Resources
Exp points
Might points
Build time (hh:mm:ss)
Wood
Stone
Iron
Glass
Keep Level 1
Keep Level 2
Keep Level 3
Keep Level 4
Keep Level 5
1
37
+10%
13350
21875
-
-
51
104
hh:mm:ss
hh:mm:ss
48:00:00
hh:mm:ss
hh:mm:ss
2
+15%
52716
56491
51754
51482
51
104
hh:mm:ss
hh:mm:ss
hh:mm:ss
41:08:34
hh:mm:ss
Castle moat
Edit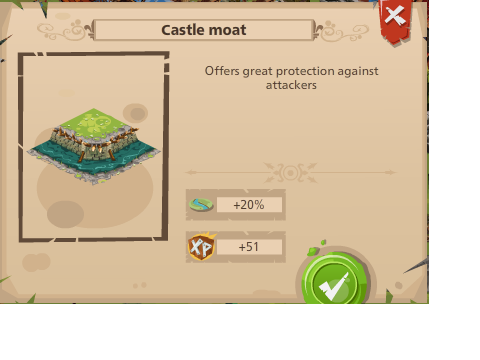 Image
Building level
Level required
Castle defense
Resources
Exp points
Might points
Build time (hh:mm:ss)
Rubies
Keep Level 1
Keep Level 2
Keep Level 3
Keep Level 4
Keep Level 5
1
37
+20%
12500
51
312
hh:mm:ss
hh:mm:ss
48:00:00
hh:mm:ss
hh:mm:ss
2
+30%
51
312
hh:mm:ss
hh:mm:ss
hh:mm:ss
hh:mm:ss
hh:mm:ss