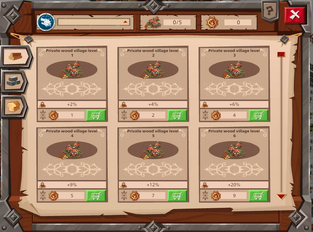 Intro
[
]
In Later 2018, Goodgame Empire added Private Resource Villages in responses to the newer players unable to get an open RV without any issues, like getting into a war from a bigger alliance. There RV starts with less of a bonus to start at the lowest level, though can go higher with resource tokens past level 10. However, you can't send troops here in case of an attack on your castle. You can have up to RVs for The Burning Sands as well as the Fire Peaks. Everwinter Glacier is different since have you only can have 5 of each there, and not 10 as in the other two kingdoms. You can click on the wood box on the bottom right of the screen, then go to the uppermost box called "resource villages". From here, click on "Village shop", to get a village. You can click on the village on the previous menu to upgrade the village to the next level, and this will only cost the level's difference (1 token to upgrade a village to level 2 in an example). The benefit of Private resource village is you can get higher total percentage boost more than regular resource village, and cannot be occupied, however, you need to collect more village tokens in order to upgrade it. It is possible to destroy the village as well, but you won't get anything, so don't do this!
How to get the tokens
[
]
You can get them at the Armorer for 900 Rubies, though a far better way is with the Nomad Invasion, Samurai Invasion, and The Blade Coast. To get that token, you have to :
Pay 100 Khan tablet/Samurai token (only 15).
Pay 300 Khan tablet/Samurai token (only 30).
Pay 4000 Pearls (only 10).
Pay 6000 Pearls (only 10).
Pay 900 Rubies via Armorer (Infinite).
They may show up in ruby offers, though only for ruby buyers.
Cost
[
]
Everwinter Glacier
[
]
Wood and Stone
[
]
| Level | Percentage boost | Tokens required to buy | Tokens required to upgrade from existing RVs |
| --- | --- | --- | --- |
| 1 | +2% | 1 | 1 |
| 2 | +4% | 2 | 1 |
| 3 | +6% | 4 | 2 |
| 4 | +9% | 5 | 1 |
| 5 | +12% | 7 | 2 |
| 6 | +20% | 9 | 2 |
| 7 | +24% | 11 | 2 |
| 8 | +28% | 13 | 2 |
| 9 | +31% | 15 | 2 |
| 10 | +35% | 18 | 3 |
| 11 | +37% | 23 | 5 |
| 12 | +39% | 28 | 5 |
| 13 | +41% | 33 | 5 |
| 14 | +43% | 43 | 10 |
| 15 | +45% | 55 | 12 |
Food
[
]
| Level | Percentage boost | Tokens required to buy | Tokens required to upgrade from existing RVs |
| --- | --- | --- | --- |
| 1 | +5% | 2 | 2 |
| 2 | +10% | 4 | 2 |
| 3 | +15% | 7 | 3 |
| 4 | +20% | 10 | 3 |
| 5 | +25% | 13 | 3 |
| 6 | +30% | 17 | 4 |
| 7 | +35% | 21 | 4 |
| 8 | +40% | 25 | 4 |
| 9 | +45% | 30 | 5 |
| 10 | +50% | 35 | 5 |
| 11 | +52% | 45 | 10 |
| 12 | +54% | 55 | 10 |
| 13 | +56% | 65 | 10 |
| 14 | +58% | 85 | 20 |
| 15 | +60% | 110 | 25 |
The Burning Sands and Fire Peaks
[
]
Wood and Stone
[
]
| Level | Percentage boost | Tokens required to buy | Tokens required to upgrade from existing RVs |
| --- | --- | --- | --- |
| 1 | +2% | 1 | 1 |
| 2 | +4% | 2 | 1 |
| 3 | +6% | 3 | 1 |
| 4 | +8% | 4 | 1 |
| 5 | +10% | 5 | 1 |
| 6 | +12% | 6 | 1 |
| 7 | +14% | 8 | 2 |
| 8 | +16% | 10 | 2 |
| 9 | +18% | 13 | 3 |
| 10 | +20% | 15 | 2 |
| 11 | +22% | 20 | 5 |
| 12 | +24% | 25 | 5 |
| 13 | +26% | 30 | 5 |
| 14 | +28% | 40 | 10 |
| 15 | +30% | 50 | 10 |
Food
[
]
| Level | Percentage boost | Tokens required to buy | Tokens required to upgrade from existing RVs |
| --- | --- | --- | --- |
| 1 | +3% | 1 | 1 |
| 2 | +6% | 2 | 1 |
| 3 | +9% | 4 | 2 |
| 4 | +12% | 6 | 2 |
| 5 | +15% | 9 | 3 |
| 6 | +18% | 12 | 3 |
| 7 | +21% | 16 | 4 |
| 8 | +24% | 20 | 4 |
| 9 | +27% | 25 | 5 |
| 10 | +30% | 30 | 5 |
| 11 | +32% | 40 | 10 |
| 12 | +34% | 50 | 10 |
| 13 | +36% | 60 | 10 |
| 14 | +38% | 80 | 20 |
| 15 | +40% | 100 | 20 |
Example
[
]
You buy level 5 private food village. You want to upgrade until level 10. So, you only need 21 tokens to upgrade. The upgrade cost is :
B = D - C B = upgrade cost C = cost for level you have D = cost for level you want