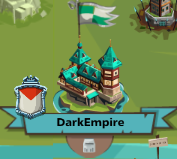 A player who first played GGE 2013 in India-1 Server.
Later that year after reaching LVL 70 I have to quit the game for months and that account got deleted because of the inactivity. Later Around 2015 I joined GGE again to continue my play with my friends. One of the first 20 members of WAR LEGION l ally which was one of sub alliances of Dragons United (DU) which was formed as one of 3 main alliances a result of DNA (Do Not Attack) rules.
Joined GGE Again in 2020 as a player of Lion Warriors Alliance which was sub alliance of Illuminati (Illu) (Later restarted as World War 3) successor of "Chakravyuh" one of first allies formed in India 1 Server. As of November Server War Rages between U.A.L and ETHERIOUS, in December all the family members of Illu including me shifted "HEIR OF THRONES" for a stronger war front.